Hello, lovelies! My apologies for the limited number of updates this month. I'm currently on a pediatric hematology/oncology rotation, and as one might imagine, free time and sleep are rather thin on the ground. In any case,here is the next installment of books that I received in April (P.S. Don't forget to enter the three thriller
giveaway
! It ends in less than twelve days):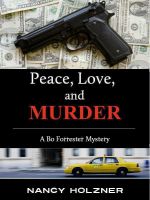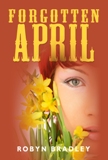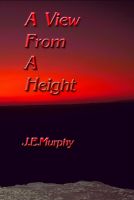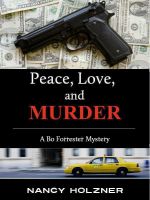 Peace, Love, and Murder by Nancy Holzner

Finding a corpse in the trunk of your cab is a rotten way to start the day. For Bo Forrester, things go straight downhill from there. The cops are asking a hell of a lot of questions. The murder weapon turns up too close for comfort. And the attractive woman giving him the eye turns out to be Trudy Hauser, a cute-but-crazy deputy dead set on arresting him for murder.

Bo returned to Rhodes, an upstate New York college town, hoping to reconcile with his parents, gentle hippies who couldn't accept his decision to join the Army at eighteen. Twenty years later, the commune where he grew up is a subdivision and his parents are long gone. Pondering his next move, Bo takes a job driving a cab. And he has no clue how the bullet-riddled body of art philanthropist Fred Davies ended up in the trunk.

Now, he can't turn around without bumping into Trudy—it's not her case, but that's not slowing her down. The local cops, suspecting robbery as the motive, are right behind her. When Davies's beautiful widow asks Bo for help, he can't say no. Starting his own investigation, he plunges into a world of privilege, corruption, and high-stakes greed. A lot of people had reason to want Davies dead: a flirtatious art history professor with a taste for booze and men; her insanely jealous, ex-felon husband; the business partner with a secret addiction; and an avant-garde artist who proclaims that murder is the ultimate art form.

As the body count escalates, Bo must combine the skills he learned as a soldier with the values he grew up with on the commune to flush out a vicious murderer—if he manages to stay alive that long.
Love and Money by Ruth Harris

Rich girl and poor girl.
Celebrity and outcast.
Sisters and strangers.

Deedee Dahlen and Lana Bantry share a father but not an inheritance, a lover but not a commitment. Deedee, born with a silver spoon, is adored and indulged—until her world turns upside down. Lana, the child of a brief encounter, is humiliated and rejected—until she forces the world to pay attention. They do not know of each other's existence and might never have met until their worlds collide when fate—and murder—bring them face to face.
Big Dragons Don't Cry by CM Barrett

Morale in the country of Oasis has never been worse. The Earthers, a tree-hugging sect, fall on their knees at the name of the Earth Mother and beg forgiveness for their crimes against twigs and weeds. The Godlies preach penitence, suffering, and stifling self-righteousness and inspire their followers into submission with terrifying images of terror of an afterlife spent being chased by a fire-breathing dragon.

Most Oasans are more concerned about this life. They all fear the dragon in the swamp at the country's edge, but they don't know that he fears them, too. Druid, whose greatest talent is for putting out fires, steams up when he learns that a cunning opportunist intends to exploit dragonphobia and call for a communal dragon hunt so that he can level the swamp for suburban housing.

Tara, a kitten with charisma, becomes Druid's ally. She'll need all her charm to enchant Serazina. This young human woman hides her ability to read emotions in order to avoid institutionalization in a society that officially promotes mental dominance. Serazina gets into greater trouble when Phileas, Guardian of the troubled land, discovers that she can read minds, too, and targets her to be the mother of the heir he so badly needs.

Phileas doesn't know that he has more immediate problems. The would-be real estate mogul is spreading rumors that the Guardian is soft on dragons. His follow-up plan involves assassination. Dead dragons, dead Guardians: It's all one to a megalomaniac who dreams of domination.

Somehow these four must overcome communication difficulties, mutual mistrust, and delusions of human superiority to save the country. Otherwise, even though Druid doesn't breathe fire, Oasis will be toast.
Space Rats by Jacqueline Kirk

Troy and his brother long to be back among the stars in their spaceship Star Chaser after crash landing on the planet of Goramir. They decide to escape and find their way home, accompanied by four of their friends. The little crew encounter aliens; visit a Space Station and stop an attack by the dreaded pirate Red Raven – the criminal who caused them to crash land in the first place!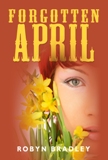 Forgotten April by Robyn Bradley

For April Sullivan-LaMonica, the last ten years have been hell: her husband and young son were killed in a car accident, and soon after, her mom descended into the darkness of Alzheimer's. So when broadcast journalist Maggie Prescott shows up claiming to be April's half sister and tries to capture their reunion on film, April outwardly regards Maggie with much suspicion. In reality, she's simply afraid to grow close to someone again, only to have that person leave--or worse.

Maggie, meanwhile, is battling her own demons: figuring out why her biological mother gave her up, facing a secret she's kept from the one man she's loved all her life, and giving herself permission to follow the dream she's had since she was a child.

Separated by nearly two decades and radically different life paths, April and Maggie must decide if pursuing their sisterhood is worth it…or even possible.

A story of loss, love, survival, and redemption, Forgotten April will speak to anyone who's experienced the pains--and riches--of an unexpected friendship that emerges from family ties.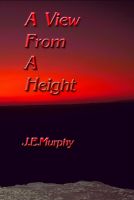 A View From A Height by JE Murphy

Here is a love story. But it is not the usual kind of love story. It is about the kind of love that can send the world spinning in new directions without the world even knowing that it was done. A discovered manuscript tells of a life that bridges the spirit world and the physical world. This manuscript tells the story of how, after a near death experience, a young Chinese girl develops the ability to observe and affect events at a distance. Her use of these psychic talents may change the world for good or evil. While traveling out of her body, Xiao Chen becomes involved in the heroic struggle of incarnate spiritual beings to undo a terrible mistake - a mistake of a previous life that is having devastating consequences in this one. A fantastic adventure that takes place in the real world of today, this is a tale of the undercurrents of existence of which we may be totally unaware. This volume includes "The Dakini" and "The Bodhisattva", complete in one volume.