Hello everyone! A bit late, but here's the final set of books that I received in April: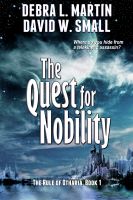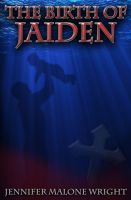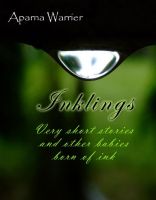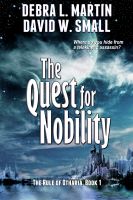 The Quest For Nobility by Debra L. Martin and David W. Small

The parents of royal Otharian twins Darius and Dyla have been murdered; their cousin is stealing their throne, and they are falsely accused of murder. Their only choice is to flee to the forbidden and quarantined planet Earth, but it could turn out to be a one-way trip.

To return home, they must find an ancient crystal, that once belonged to Merlin, to power the return portal. When the twins stumble upon the location of the crystal, the local crime boss sends out his assassin to retrieve it. Can Darius and Dyla use their PSI powers to open the portal home and reclaim their throne before the assassin catches up to them?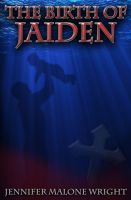 The Birth of Jaiden by Jennifer Wright

Long ago, a prophecy was foreseen. A child would be born, a child who held the power to destroy the world. Now, it is up to Alexander Lucas, a one-hundred-year-old vampire, to keep the baby girl safe from his arch enemy Malcolm.

In order to save her, Alexander must raise the child as his own. Will he be able to resist his vampire tendencies to care for a human baby? With the help of the wisest of the supernatural, an organization called The Great Council, Alexander must face many battles to ensure the safety of this very special child.
Intoxication by Tim Kizer

How do you force a confession out of a coworker trying to poison you? Do you kill those who dismiss your fears and believe you are paranoid? What do you do if you start questioning your own suspicions--and sanity--as you take the law into your hands?

In this disturbing tale of derangement, a young psychopathic woman is slipping into madness as she fights an enemy that may exist only in her imagination. She has to resort to desperate measures when she realizes that a gun, security cameras in her apartment, and constant vigilance will not be enough to survive.
Gastro Detective by Vincent McConeghy

Gastro Detective marks the advent of a new genre for the fiction thriller category-the Resto Thriller- where food, finance, global politics and the recurring drama of the restaurant business collide with dramatic and unexpected consequences.

Chef Joe Bass, owner of a celebrated regional restaurant and well-known television personality on Food Network, has been murdered in the kitchen of his eponymous restaurant. His sudden and unexpected demise prompts the return of life-long friend Frank Bruno, who is also immersed in a high-level facet of the food industry for the U.S. government, far beyond the machinations of sole proprietorship.

Yet, as the nitty-gritty of a return to life in the restaurant business envelopes him, Frank Bruno is reminded that the fundamentals of food, family and restaurants remain the same.

It's a hands-on business where everyone's hands are dirty.
Friendship: Launch Day by SJ MacDonald

Spend the day with Adventure Girl Kat Auton.

History is being made today with the launch of the Friendship, the most advanced ship ever seen in human space. It will be crewed by chethari, quarians and humans from across the League and Allianzi, and will soon be heading out on its first missions. Kat, the youngest member of the Friendship's media team, is reporting on the build up to the big event; front stage, back stage, all the atmosphere as it happens.

But it is going to be a much bigger day than even Kat is expecting.
The Dream Theatre by Sarah Ball

The golden rule is: if you think it, and believe it, it will happen…

Anything is possible in The Dream Theatre. It's a place where dreams are played out like pictures on the television; a place that can be everything from wonderful to scary to downright weird.

And you don't need to be asleep to explore it.

Jamie Ellis and his best friend Martha make this incredible discovery when Martha's dog Pip leads them into The Dream Theatre then disappears. Desperate to find him Jamie and Martha search the dream world, visiting places and seeing things they never thought possible. But when they eventually find him they face an even more puzzling problem. What is the strange, unending dream Pip seems to be guarding, and why won't he leave?

The answer means a race against time to help a friend in trouble and Jamie coming face-to-face with his worst nightmare…
G'Day LA by Tony McFadden

Can Ellie convince the police that her best friend's death wasn't suicide?

Or accidental?

Can she stay alive herself, now that the killer knows what Ellie knows?

And can she find a career in a city that cares more for what's on the outside than on the inside?

Ellie Bourke came to LA from Australia a year ago to further her acting career. She had no idea she'd have to solve a murder to find that success.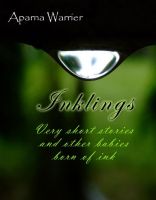 Inklings by Aparna Warrier

Very short stories and other babies born of Ink.

Stories tagged under urban life, oblique humor, romance, satire and even the purpose of life. In this book, you will find urban-style, simple prose, sprinkled with thought-provoking metaphors along the way. Inklings offers a glimpse into the world of intelligent flash fiction, which, while not a popular genre in traditional publishing, is making an impact in online literature.

For an idea of what to expect, an introduction of five of the stories in this anthology follows
1. Intoxicated by Impossibility - The story of one guy who can't fall asleep because of one girl who's not even there. Or is she?
2. Who wrote the Rules? - Existential angst clubbed with rebellion against The System.
3. The revolt of the coconut trees - Inspired by an academic study published in the Journal of Trauma, 1984, titled "Injuries due to falling coconuts".
4. So what? - What happens after the Storm.
5. Cheeky - A story about that chubby part of a certain person's face.