Hello, friends! It seems that my Review Queue has seen a lot more activity in the latter half of May. Here's what I've received in the past week and a half: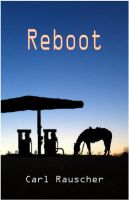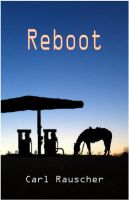 Reboot by Carl Rauscher

Oscar Ridell is a hero to most towns he visits as he travels west, paying for room and board by restoring equipment fried by the Pulse. Few guess he's part of a national recovery effort; fewer still that their hero is a reformed alcoholic, haunted by the voices of his estranged wife and child. When a bandit attack leaves him on the run and bleeding to death, Oscar finds himself in an isolated town with no belongings and little to offer rescuers, other than his repair skills - something the town's leaders forbid he use lest he revive something harmful to their fragile community.

Winter is approaching, bandits control the roads, and the only means of contacting someone back east for help rests in the hands of a national guard unit who, Oscar discovers, are the source of the bandit attacks.

What Oscar wouldn't give for a working telephone… or a stiff drink.
Effie at the Wedding by Tracy Marchini

Effie has a million reasons why she's not thrilled to be at her sister's wedding -- and the monstrously pink bridesmaid's dress isn't even on the list. When Effie finds herself locked in the bathroom, she thinks she might just stay there. After all, it's better than hearing from her mom about how often she's been to the buffet or how beautiful Ophelia looks in her wedding dress.

In this hysterical young adult short story, Effie will have to find a reason to celebrate... or get used to her porcelain throne.
Seven Celebrity Stories, One Ordinary Guy by Michael-John Wolfe

Author Michael-John Wolfe spent the better part of his life working as both an Hollywood actor and professional chauffeur. Since these two jobs occasionally lead to heavy interaction with celebrities and sports stars, Michael-John was able to compile seven compelling stories that detail life-changing encounters with a wide variety of famous people. These are not just "I met so and so and he gave me an autograph" tales - these are true comprehensive situations involving each celebrity. In some cases the celebrities are the main catalyst in the story in other cases their presence simply helps make the story special.

If you are looking for scandalous TMZ style scoops - sex, drugs and deceit - this is not the book for you. If you want to hear what it's like to be on the set of major feature films and work with people like Brad Pitt, Tom Cruise and Martin Scorsese - read on. Go behind the scenes and see life through the eyes of a struggling wanna-be actor trying to make ends meet in Hollywood. Discover the unique ways Michael-John was able to attain speaking roles in major feature films opposite Tom Cruise and Brad Pitt without being cast in either movie. Other stories include humorous, heart warming accounts that feature director Martin Scorsese, actor Thomas Gibson, New York Met's second baseman Tim Teufel and NFL stars Jason Sehorn and Walter Payton. This extraordinary collection of memoirs is sure to leave you wanting more.
Hexult by Perry Aylen

Shipwrecked on the frozen seas of an ice world, in a future so distant that the only traces left of our time are shards of glass, fifteen year old twins, Jacob and Elya, are rescued by Aulf, the young mail man, who earns a precarious living sailing his small boat between the treacherous arms of the Vajra Crevasse, to deliver mail to the troubled islands of Hexult.

When the seas rose and the world froze, much technology was lost, and Jacob and Elya's superior knowledge of science leads the superstitious islanders to believe they are magicians. An ancient prophecy, predicting their arrival, spells trouble for the twins, and before long threatens their relationship with each other and puts and Elya's life in danger.

With the islands at each other's throats, Jacob and Elya come up with a revolutionary plan to help improve relations across Hexult, an idea instantly snapped up by Hexult's resident magician, Gabriel, who sees it as the perfect way to redeem his own fading glory, and immediately plots to undermine the twins' credibility and snatch the credit for himself.

With the help of Aulf, and his fiery crewmate, Ingar the Orphan, Jacob and Elya must overcome personal tragedy, the islanders' prejudice, marauding ice raiders, and Gabriel's vengeful scheming, in order to save their reputations and their lives.
Darcy and Fitzwilliam by Karen V. Wasylowski

A gentleman in love cannot survive without his best friend...

Fitzwilliam Darcy and Colonel Fitzwilliam couldn't be more different, and that goes for the way each one woos and pursues the woman of his dreams. Darcy is quiet and reserved, careful and dutiful, and his qualms and hesitations are going to torpedo his courtship of Elizabeth. His affable and vivacious cousin, Colonel Fitzwilliam is a military hero whose devil-may-care personality hides the torments within, until he finds himself in a passionate, whirlwind affair with a beautiful widow who won't hear of his honorable intentions.

Cousins, best friends, and sparring partners, Darcy and Fitzwilliam have always been there for each other. So it's no surprise when the only one who can help Darcy fix his botched marriage proposals is Fitzwilliam, and the only one who can pull Fitzwilliam out of an increasingly dangerous entanglement is Darcy...